S-REIT Structure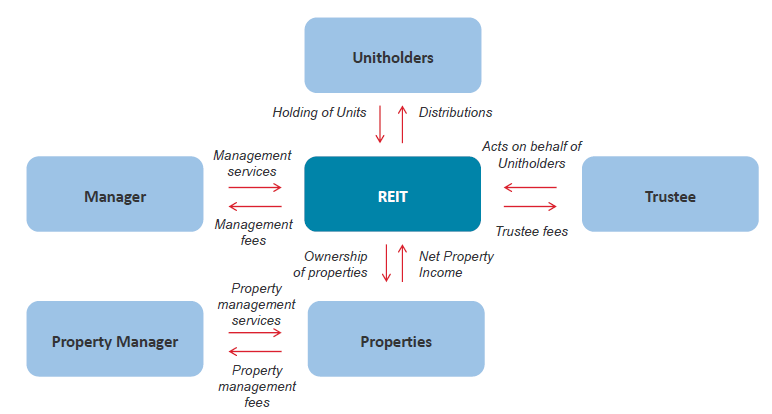 Source: Allen & Gledhill LLP
In a typical S-REIT structure, money is raised from unit holders through an Initial Public Offering (IPO) and used by the S-REIT to purchase a portfolio of real estate properties. These properties are then leased out to tenants; and in return, most of the rental income flows back to the unit holders (investors) as distributions (which are similar to dividends). Most S-REITs have annual REIT managers' fees, property manager's fees, trustees' fees and other expenses that will be deducted from the S-REITs' income before distributions are made.
The Trustee
The Trustee is responsible for holding assets on behalf of the S-REIT and represents the interests of the unitholders. Its duties are stated in the S-REIT's trust deed which typically include ensuring compliance with all applicable laws, taking custody of the real estate assets, and protecting certain rights of unit holders. The trustee is paid a fee for providing this service.
The REIT Manager
S-REITs' assets are externally managed by a REIT manager. The REIT manager is responsible for managing the S-REIT, setting and executing the strategic direction of the REIT in accordance with the S-REIT's stated investment strategy. This includes the acquisition and divestment of the underlying properties. In exchange for its services, the REIT manager charges a management fee that includes a base fee and performance fee. It may also charge additional fees such as acquisition and divestment fees.
The Property Manager
A property manager is typically appointed by the REIT manager to manage the underlying real estate properties of the S-REIT. It oversees renting out the property to achieve the best tenancy mix and rental income, running marketing events or promotional programs and upkeep the property in general. In exchange, the Property Manager is paid a property management fee out of the assets of the S-REIT.
The Sponsor
The majority of S-REITs are supported by a sponsor. The sponsors usually provide the properties that are injected into the initial portfolio of the S-REIT around the time of its initial public offering (IPO) and may continue to provide a pipeline of assets to the S-REIT post-IPO. The sponsor also typically own stakes in the REIT manager and the S-REIT.